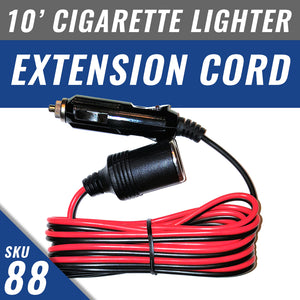 Hail Protector
10 Foot Cigarette Lighter Extension Cord
Sale price Price $35.00 Regular price
The price of this product includes shipping within the lower 48 states of the USA.
Each Hail Protector System includes a Cigarette Lighter Power Cord.  The included power cord is 3.3 feet in length.  This 10 foot cigarette lighter extension cord adds 10 feet for a total of 13.3 feet.  
Like the included cigarette lighter power cord, this cigarette lighter power cord has a 10 ampere bulb fuse inside the male plug.  
Prior to purchasing this extension cord, make sure that your vehicle has a cigarette lighter socket that remains on with the keys out of the ignition.  
Also ensure that the cigarette lighter socket can handle a 5 ampere load and has a fuse or breaker size of 7.5 ampere or above.  Some car manufacturers are beginning to put both 10 ampere sockets and 2 ampere sockets in their vehicles.  The 2 ampere sockets tend to be placed in the back seat area of the vehicle and are fine for charging a cell phone, but are not adequate for running your Hail Protector.  Higher output 10 ampere sockets tend to be in the dash of the vehicle and/or in the hatch, trunk or truck bed of the vehicle.  
If the connection point of the included cigarette lighter power cord and this extension cord is in your truck bed and the truck bed is not sealed from weather elements, use a piece of masking tape or duct tape around the exposed metal portions of the connection.  This will keep the cover, which may be moist, from contacting the exposed metal of the power cord plug and the extension cord socket at the same time, which is isn't dangerous, but will blow the fuse in the extension cord and shut off your Hail Protector System.
Consult your owners manual and/or vehicle manufacturer website for details on the capability of your cigarette lighter sockets.