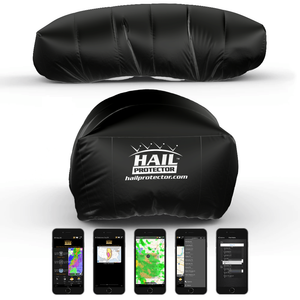 Hail Protector
SUV2 BLACK HAIL PROTECTOR Truck and SUV (198 to 233 inches)
Sale price Price $529.00 Regular price
The SUV2 BLACK HAIL PROTECTOR 
Portable Truck, SUV and Van Protection System (between 198" and 233" in length).
In the Options area above, selections are REQUIRED for Extended Lead Time Acknowledgement, prior to adding product to cart for purchase.
Need help determining the Hail Protector size you need?  Click here: 

The Patented System:
1)  Protects your ENTIRE VEHICLE from ANY SIZE HAIL
2)  Includes a FREE EARLY WARNING HAIL ALERT and HAIL FORECAST Mobile App (iPhone and Android) (mobile app is USA only).
As of January 1, 2019, the Patented Hail Protector System is protecting thousands of customer automobiles in 42 states, 10 countries, and 4 continents.
One-time initial system assembly takes approximately 20 minutes when you first receive your system.
Each system includes our complete accessory kit:

The SUV2BLK system installs in 7 or 8 minutes after a practice install. The SUV2BLK system begins protecting your vehicle immediately upon activation and stops any size hail within 8 minutes depending on the utilized power source. The system removes and repacks in 7 minutes.
The system rolls up and packs up small, similar to the size of a sleeping bag.
If you have any questions, please don't hesitate to click here to contact us or call us toll-free at 855-511-4245.
Thank you. We look forward to protecting your automobiles.
- Hail Storm Products